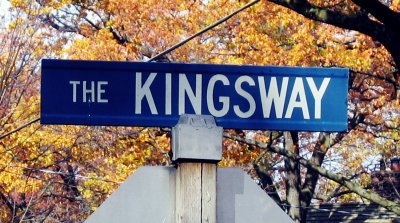 Edward and I used to live in Etobicoke, just minutes away from The Kingsway before we moved out into the burbs. We would drive down the old neighbourhood and just stare at the fantastic homes standing along the side of the roads. I lived my whole life in Toronto but never have I been so drawn to a specific neighbourhood. We would park on Bloor St and walk around the town pick up the best croissants at the local french bakery, fruits from the vendors and sipping on a star bucks coffee we decided one day that this would be our future neighbourhood - the neighbourhood we would raise our kids in.

So, recently I started doing a little research on The Kingsway.
The Kingsway is situated on former Clergy Reserve lands that were deeded to the Church of England in the early 1800s. The church leased this property to farmers until 1908 when it was acquired by Robert Home Smith, the visionary who planned The Kingsway neighbourhood.

Home Smith and Company began marketing this subdivision in 1912. However the sale of homes in The Kingsway was stalled by the outbreak of World War I.
Home Smith's motto for The Kingsway was "a little bit of England far from England". His lofty ideal was to establish an English-style garden suburb of the highest integrity and beauty. It is Robert Home Smith's legacy that The Kingsway endures today as one Toronto's finest neighbourhoods.

This well planned community was designed for families. The houses and properties are a good size, the streets are pedestrian friendly, and the schools, shopping, churches, and recreation are all within walking distance. These houses were built between 1924 and 1947 and include some of the finest examples of Old English classical and vernacular architecture in Toronto.

Many houses in The Kingway feature handsome stone exteriors, intricate tapestry brick patterns, and elaborate stucco and half timbering designs. These homes also feature solid oak doors, leaded glass windows, fanciful bay and oriel windows, and decorative wrought iron railings and porch lamps.

Now that I just gave you an entire history lesson on The Kingsway, there are the great original English style homes built by Robert Home Smith that we fell in love with!



images by Ettml