This week is my nephews 2nd birthday and I'm racking my brain trying to think of what to get him. What do you get a boy that already has everything he could possibly wish for??? So I'm thinking of putting together a little gift box full of goodies for both him and his parents.
I recently came across
Kids Haus
who has tons of great ideas for kids. She recently posted on these fantastic porcelain baby bowls and cups from
Hana Blomst
.
How cute are these! They're porcelain mind you, but you can keep them as decor until the kids grow old enough not to throw their plates and cups. I wouldn't mind having those in my kitchen :)
They also have these great chairs for kids, I'm especially drawn to the rocking chair. But the funky blue capsule chairs are pretty cool too. Beats the plastic dollar store chair I used to have as a kid that broke on me one sad day.
I'm also a big fan of wooden toys. They're non toxic and sturdy. Check out some of my favorites from
Coochicoos
.
The band set is cool, but mommy and daddy would probably not appreciate this one too much!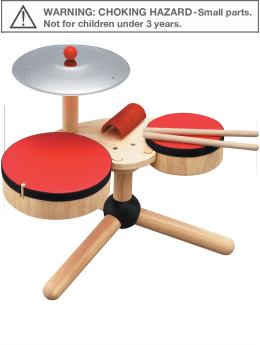 After work tonight... time to go shopping!
Have a great weekend.